LiveNoise LNT-SE Noise Monitor with Ethernet & WiFi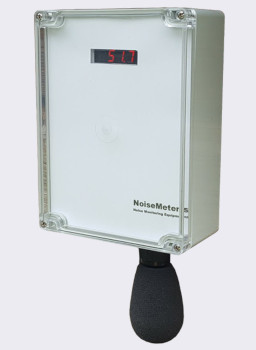 Noise Monitor with
WiFi or Ethernet Link
Overview
The LiveNoise LNT-SE noise monitor mounts on a wall and just needs power (adapter included) and access to a WiFi or Ethernet wired network. It communicates to our cloud server or to the LiveNoise Supervisor software to provide a real-time display of noise levels and long term noise reports.
Indoor or Outdoor Use
Wall Mounted
Monitors, Analyzes and Records Sound Levels
Just Needs Power and Ethernet or WiFi Network
Typical Applications
Industrial and Factory Noise (inside or outside)
Boundary Noise
Construction Noise
Entertainment Venues
LiveNoise System
The noise monitor communicates continuously with the LiveNoise Supervisor software to provide real-time noise levels, long-term stored noise measurements and high-noise alarms.
The LiveNoise Reporter software can generate reports of the noise and alarms over daily, weekly, monthly or other custom periods.
Alternatively, the noise monitor can upload its measurements for you to view using the Web Reporter.