LiveNoise REPORTER Software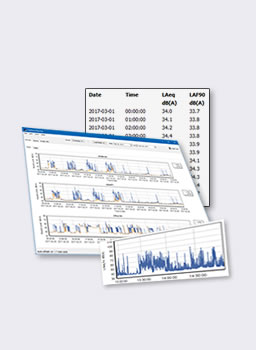 LiveNoise Reporter Software
Reporter Software Overview
View measurements that were downloaded using Supervisor
Produce daily, weekly, monthly or custom period noise reports
Produce reports of high noise level alarms
Charts of daily noise levels to a resolution of 1 second
Print reports or export to HTML for sharing with others
This software, along with the LiveNoise Supervisor, is included with all LiveNoise noise monitors. There are no annual fees or installation restrictions.
Typical Applications
Office and call centre noise monitoring
Noise inside factories and industrial sites
Noise outside factories and industrial sites
Boundary and construction noise monitoring
The Reporter software usually runs on the same computer as the Supervisor software. However, it can run on other computers on the network as long as they have access to the Supervisor software's data folder.
Most noise and alarm reports can be generated over daily, weekly and monthly periods, or custom dates can be selected.
The types of reports include charts and tables of:
Periodic noise showing Leq, Ln, Lmax, Lmin
Alarms indicating high noise levels
Noise profile with a resolution of 1s
All reports can be printed, exported to HTML or copied into a spreadsheet or word processor program.
Prices and Ordering
This software is included with all LiveNoise Terminals.