Guardian Environmental Monitor - Noise, Dust, Vibration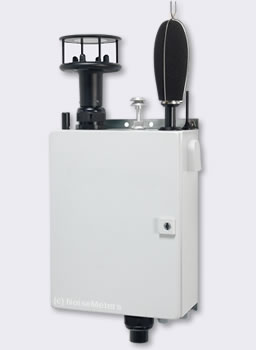 Guardian Environmental Monitor
Noise, Dust and Vibration Options
Overview
The Guardian is a multi-agent environmental monitor with options for noise, particulate (dust) and ground vibration monitoring. The monitor automatically uploads all measurements via the cell network to the cloud. Reports are accessed using a web browser and alerts can be sent by email or text message.
Environmental sensors available:

Noise - Sound Level, Type 1 / Class 1
Dust - Particulate PM10, PM2.5, PM1.0
Vibration - PPV, triaxial geophone
Wind - speed and direction

Web hosted reporting
Manual or automatic (emailed) reports
Easy self-install

Wall or pole mounted
Just needs power (100 - 250 VAC)

Connection via mobile network (supplied configured and running)
Applications
Construction Sites & Demolition Sites
Boundary Monitoring
Roadside Traffic Monitoring
City Environment Monitoring
Compliance Monitoring
Planning Guidance
Sensors - Noise, Dust, Vibration
The Guardian can be fitted with any combination of the three main sensor types: noise, dust or vibration. It can also be fitted with wind speed and direction sensors, which are of particular interest when measuring dust or noise.
You choose which sensors you need and the unit is delivered fully assembled - it just needs power.
Mobile Connection
The measurements are uploaded to the web servers over a standard mobile connection.
An eSIM, which is an electronic version of the old SIM chip, is fitted so you don't even have to sort out a phone contract. The Guardian will connect to the strongest signal from a selection of networks.
Browser Based Reporting
The monitors automatically send the measurements to a cloud server, where they are kept for long-term storage and reporting.
Users simply log in to a web site to view the results, produce reports and set up alerts.
Reports can be exported or emailed for local or other off-cloud storage.