Noise Nuisance Recorder - Noisy Neighbors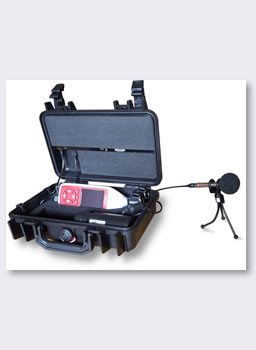 Neighbor Noise Recorder
The Noise Nuisance Recorder measures the sound levels from neighbor noise as well as recording the audio for evidence purposes.
Music noise
Dogs barking
Shouting and verbal abuse
Banging
For use by enforcement officers, housing associations and concerned home owners, the recorder includes a precision grade Sound Level Meter, Calibrator and Microphone to provide the following features:
Accurately measures the sound levels
Record the audio at the complainant's request (button push)
Powerful hand-held meter for other noise measurement applications
NoiseTools Software included
Assessing Neighbor Noise
The Noise Nuisance Recorder is taken to the residence with the problem, carried inside a simple shoulder bag to avoid attracting the attention of the neighbors. It is very quick to set up before being left to measure sound levels continuously.
When the complainant hears the problem noise (dog barking, shouting, music, etc.) they press the button on the remote control to start the audio recording. A light on the case shows that the noise is being recorded. A "pre-trigger" ensures that 30 seconds before the button is pressed is included in the recording - 30s is the default, it can be changed.
After a suitable period of time, usually a few days to a week, the measurement process can be stopped and the equipment returned to the office for analysis. After downloading the measurements you are presented with a Time History graph showing the sound levels throughout the measurement period. Markers indicate the time audio samples have been recorded. Listening to the audio confirms the source of the noise and is essential for evidence purposes.
Visit the Software page for more information.
Why a Noise Nuisance Recorder?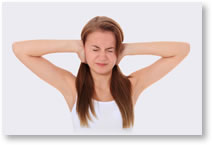 Living with noisy neighbors
Over-reaction or genuine complaint?
When a resident complains of excessive noise from a neighbor there is often more happening behind the scenes, such as a neighborly fall out over a number of other issues. In these situations the complainant could be over sensitive to noise that would not normally bother them, or could be falsely exaggerating the noise levels involved. For the authority involved (environmental health, housing association, police, etc.) it can be difficult to separate the genuine complaints from the false ones.
The purpose of the Noise Nuisance Recorder is to give the resident the opportunity to show that the noise levels in question are genuinely excessive or of an abusive or anti-social nature. This is extremely important as excessive neighbor noise is very difficult to live with, causing a loss of sleep, increased stress levels and the resultant damage to health.
---