VEXO GA2006H Hand Arm Vibration Meter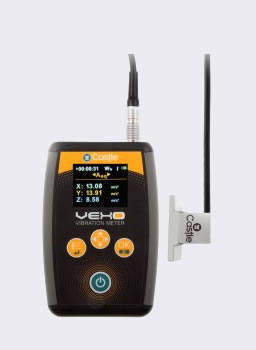 Hand Arm Vibration Meter
Overview
The VEXO GH2006H Hand Arm Vibration Meter makes all the measurements required for a vibration risk assessment in line with the regulations.
Measures the tool's vibration
Hand Arm Vibration Risk Assessment
Rechargeable Battery and Charger
ISO 8041:2005 Human response to vibration - Measuring instrumentation
ISO 5349:2001 Mechanical Vibration - Guidelines for Measurement
This fully featured meter has been designed to be very quick and easy to use. As it is not just a general vibration meter, but designed specifically for hand-arm vibration, there is no complicated setup or selection of measurement parameters.
The meter's features include:
Tri-axial sensor and vibration measurements
Clear color display
Data logging and download to software