CEL240 Type 2 Sound Level Meter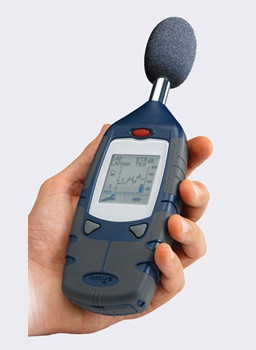 CEL240 Sound Level Meter
Using It
The CEL240 Sound Level Meter is controlled using just two buttons, one to the left and one to the right. The graphical display ensures that operation and the selection of options is as easy as possible.
1. Switch On
Ensure 3 x AA batteries are fitted on press the red button to switch the sound level meter on.
After a brief warm-period of just a few seconds, the meter will show the current sound level on the display.
The exact content of the display depends on how you set the meter up last time, as it remembers these settings for your convenience.
Calibration Check
2. Calibration Check
Some regulations and guidelines state that the meter's calibration should be checked before making measurements, and that you should keep records of these calibration checks.
Fit the Calibrator over the microphone as shown on the right and switch it on. The meter automatically detects the presence and correct fitting of the Calibrator and then starts the calibration process, which only takes a few seconds.
3. Changing Settings
As the meter saves its settings, you should only need to do this occasionally. The left-hand button cycles through the following main settings:
| | | |
| --- | --- | --- |
| | Display Type | Graph or numbers |
| | Measurement Range | 30 to 100 dB or 60 to 130 dB |
| | Time Weighting | Fast, Slow or Impulse |
| | Frequency Weighting | "A" or "C" weighting |
The right-hand button is used to change the current setting of any of these parameters.
4. Make the Measurements
You can now read the sound level from the display.
In the example on the right, the meter is set to read the Fast Sound Level (LAF). The current level is 53 dB(A) and the maximum (since last reset) is 80.9 dB(A).
Press the reset button (right-hand button) to reset the max reading.