NoiseGuide for Office and Call Center Noise
Overview
The NoiseGuide is for use in open-plan offices and call centers. It warns staff when their noise levels are too high and likely to be causing problems.
Continuously measures the noise levels
Instant warning when levels are high
Average background noise checks
Data logging with software download
The NoiseGuide lights up green to indicate that the noise levels are fine. If somebody starts to speak too loudly, or creates any other excessive noise, the NoiseGuide will light up yellow as a warning and then red.
The light bar at the bottom of the NoiseGuide indicates the average sound level over 15, 30 or 60 minutes, for controlling longer term background noise levels.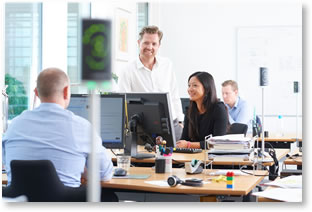 Loud talking?
Shouting?
Singing and whistling?
Reduce stress levels
Avoid conflict
Improve productivity
Where?
The NoiseGuide can be mounted on a desk using the stand that is included. There are also options for open-plan office partitions and for wall mounting. It is better to monitor the noise levels within a few feet of where people are working, making it easier for them to see that they are being too loud.
For more information please visit the NoiseGuide Installation page.