Noise Warning Sign - SoundEar Classic
SoundEar Classic
Noise Activated Sign
Very attractive design for any environment
Adjustable warning level from 40 to 115 dB(A) in 5dB steps
Yellow warning lights come on 5 dB before limit is reached
Red light and the word WARNING when the limit is exceeded
Applications
The SoundEar presents a clear and unmistakable warning as soon as the noise exceeds the user selected limit. Children and adults can easily understand the warning symbol so that immediate action can be taken. It mounts on the wall and is powered from the power supply that is supplied with it.
Unlike most other noise warning signs, this one is nicely designed to looks at home on the wall of any office, school room or factory. You can read more about the SoundEar 2000 at the NoiseSign web site.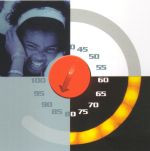 The Noise Limit
The noise limit is selectable to suit the function of the room. It can be set in 5 dB steps to a level between 40 and 115 dB(A) using the control on the back. These settings represent the noise levels between a study room and a rock concert.
The yellow lights come on just before the limit it reached. As soon as the limit is exceeded the red part lights up and the word WARNING is displayed.
From behind, showing mounting point
and level adjustment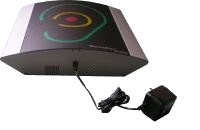 From beneath, showing power connection
and simple power supply
SoundEar 2000 Specifications
Red Light Limit:
40 - 115 dB(A)
Yellow Lights:
5 dB before limit is reached
Threshold Tolerance:
± 1dB
Power Supply:
110 V or 240 V AC
Power Consumption:

approx. 3W
Dimensions:
11" x 11" x 2.3"
280 x 280 x 60 mm
Weight:
53 ounces, 1.5 kg
Data Logging Noise Sign
An optional data logging module stores the sound level every five minutes. For more information please visit the Data Logging web page.
The SoundEar II sign has more detailed data logging features: