EM2010P Portable Wireless Environmental Noise Monitor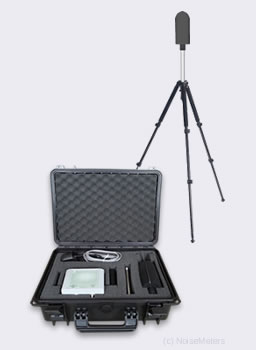 Portable Environmental Noise Monitor
Overview
The EM2010P Portable Environmental Noise Monitor is designed for short and medium term environmental noise monitoring. It is ideal for temporary installation where mains power isn't available, and for applications that demand regular relocation.
Quick and easy to deploy
Connection to Internet over mobile phone network
Connection and 1 year contract included
Battery pack for 10 days of unattended monitoring
Email and SMS alerts
The EM2010P/G and EM2010P/GA order codes include the following items
EM2010 Environmental Noise Monitor in Weatherproof Case
Outdoor Microphone and Tripod with 10m Cable
Rechargeable Battery in a Weatherproof Case
Web access to view measurements and reports
Environmental Noise Monitoring Applications
The EM2010P Portable Environmental Noise Monitor is for temporary installations, although the noise processor can be removed from the case and mounted indoors on a wall. For a more permanent installation with power available, please see the EM2010 Environmental Noise Monitor.
This unit is ideal for
The EM2010P consists of two weatherproof cases and a tripod. One case contains the noise processing unit and wireless communication devices. It also carries the microphone and cables.
The second case contains the 10-day rechargeable battery. This is in a second case to ease carrying and so that it can be easily swapped out in the field without having to disturb the noise processor. This is not only convenient but avoids opening the main case in poor weather conditions.