LiveNoise LNT-EAR Noise Monitor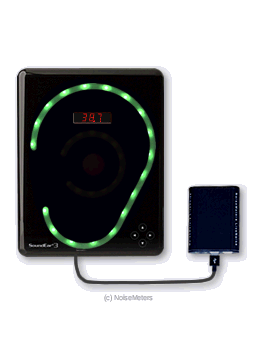 Mounting
The Noise Warning Sign can be mounted on a wall using a single screw. The LiveNoise Terminal is mounted close by using two screws or it can just sit on a shelf or other suitable surface.
If a more secure mounting method is needed or you want to angle the noise sign away from the wall then an adjustable VESA mount is available. An extra security bracket is also available for the LiveNoise Terminal. Please contact us for more information.
Connection
A standard USB cable (included) connects the LiveNoise Terminal to the Noise Warning Sign.
Power
The system requires 5V DC, which is provided by the power adapter that is included.