LiveNoise LNT-EAR Noise Monitor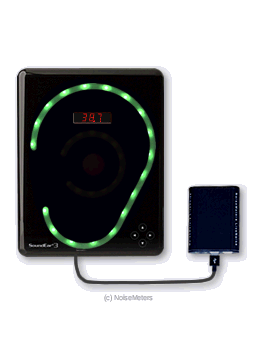 Overview
The noise warning sign and interface module can be mounted on a wall or other suitable surface. An optional adjustable VESA mount can be used for more secure or corner mounting if needed. It measures the sound levels in line with the noise measurement standards, stores the results, and makes them available to the LiveNoise Supervisor and Reporter software over your network, or to our cloud server over the Internet. An HDMI output can be used to display the live sound levels on a computer monitor or HDMI television.
Wall Mounted Noise Display
Monitors, Analyses and Records Sound Levels
Network Connection (WiFi or wired Ethernet)
Lights up when noise levels are too high
IEC 61672 Class 2, ANSI S1.4 Type 2
Typical Applications
Office Noise
Hospital Noise
Call Centres
LiveNoise System
The noise monitor communicates continuously with the LiveNoise Supervisor software to provide real-time noise levels, long-term stored noise measurements and high-noise alarms. The LiveNoise Reporter software can generate reports of the noise and alarms over daily, weekly, monthly or other custom periods.
Alternatively, the noise monitor can upload its measurements for you to view using our Web Reporter system.
The noise monitors can work alone connected to a display, they can be connected to the Supervisor software for real-time display, or they can upload to the cloud server for online reporting. Or they can do all three.