dBadge 2 Noise Dosimeter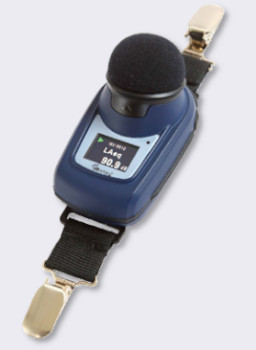 Software for the dBadge2
There are three programs available for the dBadge2 Noise Dosimeter:
dBadge 2 Download Utility (included)
Airwave Application for phones and tablets (included)
Insight Noise Data Management Software (option)
The dBadge2 Download Utility transfers the measurements from the dBadge into an Excel spreadsheet. If you want to produce your own reports then this is a quick way to do it.
The Airwave application runs on a phone or tablet and can be used to start and stop measurements. You can also view a summary of the measurement and send it by email.
The Insight software makes use of the full power of the dBadge2 dosimeter, downloading all the measurements, giving the option to link them with person, place or process, and producing reports.
---
dBadge2 Download Utility
The Download Utility software is available free of charge. It connects to a dBadge2 and downloads the measurements to an Excel spreadsheet file, from where you can carry our your own analysis and reporting.
The file contains the measurement summary, along with the Time History Noise Profile, events, and a noise histogram.
---
Airwave Phone / Tablet Application
The Airwave Application for phones and tablets is available for download free of charge from the Google Play and the Apple App Store. It handles multiple dBadge2 noise dosimeters over a Bluetooth link.
Using the Airwave app you can start, stop and pause measurements without interrupting the worker. You can view the current measurement state too - noise levels so far, battery level and memory capacity.
A summary report can be emailed directly from the phone or tablet.
---
Insight Noise Data Management Software
The Insight software can be bought with the kit or at a later date. It runs in Windows XP, Vista, 7, 8, 8.1 and 10, and deals with downloading the measurements, managing the data, linking measurements with people, processes, locations, etc. and generates reports.
Tabular View
Color Coding Indicates Noise Levels
Graphical View
Generating Reports
Reports can be created using either single or multiple measurements. You select the entity for which you want to generate a report - this can be a person, place or process and then select the option to Generate report...
The Report Wizard then leads you through the process, allowing you to select the sorting (site, location, process or person), making it very convenient to generate reports for all people, all processes, etc. You can then select a date range and even include/exclude selected measurements, and which fields you want included - date, time, duration, battery state, notes, and so on.
A personal header and footer can be added. All changes to the layout and content are saved so that you don't have to go through the same selections again.
Once generated, the report can be viewed on screen, printed or exported to other formats such as Excel (XLS) or PDF (ideal for emailing).
Typical Dosimeter Noise Report