dBadge2 PRO Noise Dosimeter - With Audio and Octave Bands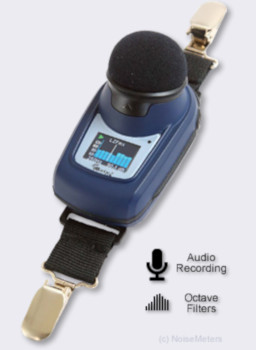 + Measure Noise Exposure
Mounts on the worker's shoulder to measure noise exposure
Meets the requirements of the occupational noise regulations
Octave band filters for detailed hearing protector assessment
+ Packaged for the Job
Strong case for industrial environment
Clear, color display and simple controls
+ Measurement Integrity
Controls are lockable to prevent tampering
Motion sensor to ensure it was worn throughout the shift
Audio recording - listen to the cause of high noise levels
+ Connected
Download to PC using Docking Station
Direct connection to phone using Bluetooth and Airwave application
Assessing Worker Noise Exposure
The dBadge2 Noise Dosimeter mounts on the worker's shoulder, measuring the noise levels throughout the working day. It measures all the parameters needed by the noise at work regulations throughout North America, Europe and the rest of the world. Everything is measured, so no risk of choosing the wrong parameters before starting the survey.
Octave Band Filters
This version of the dBadge2 noise dosimeter includes real-time octave band filters, splitting the spectrum into the nine standard bands to provide frequency analysis. This is useful if you need to carry out a more detailed assessment of hearing protectors using the octave band method, especially for very high noise levels or for tonal noise.
Audio Recording
The dBadge 2 PRO model has the ability to record the audio. This is useful for note taking before starting the measurements (employee name, machinery in use). It can also be set to record when the noise exceeds a preset sound level, enabling you to listen and identify the cause.
Managing the Results
You can take the readings directly from the display. Everything you need to satisfy the regulations is there. For more detail it is usually better to download to a computer using the software that is included. The dosimeter even provides you with the calculated noise exposure level (TWA for North America, and LEP,d or LEX,8hr for Europe and some other regions).
Hearing Protection
The dBadge2 includes both "A" and "C" weighted measurements. These can be used to assess the suitability of hearing protectors using the standard HML method. This method is adequate to satisfy the regulations. If you want more detail then you can use the more detailed Octave Band method.
Kits contain dBadge2 PRO Dosimeters with Audio and Octave Band Filters. Kit has dBadges, Calibrator, Dock/Charger, Peli Case and Software.
Kits with 1, 2, 3 and 5 dBadges have one 3-way charger. Kits with 10 dBadges have two 3-way chargers.
Order Code
Description
Purchase
Price (CAD)
DB2PROK1
Kit with 1 dBadge2 PRO Dosimeter, Calibrator, Charger, Software and Case
$3410.00
DB2PROK2
Kit with 2 dBadge2 PRO Dosimeters, Calibrator, Charger, Software and Case
$5399.00
DB2PROK3
Kit with 3 dBadge2 PRO Dosimeters, Calibrator, Charger, Software and Case
$7351.00
DB2PROK5
Kit with 5 dBadge2 PRO Dosimeters, Calibrator, Charger, Software and Case
$11141.00
DB2PROK10
Kit with 10 dBadge2 PRO Dosimeters, Calibrator, Charger, Software and Case
$20524.00