CEL633C Environmental Sound Level Meter with 1/3 Octaves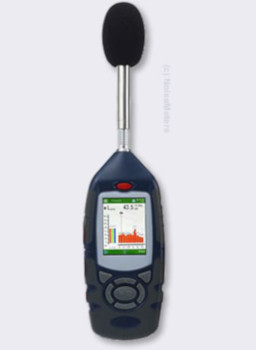 CEL633C Sound Level Meter
Options
The CEL633C Environmental Sound Level Meter is available on its own or with a selection of accessories. The standard CEL633C1 meter satisfies the needs of most surveys and includes real-time 1/3 octave band analysis for tonal noise.
Type 1 or Type 2? - Regulations will usually state which you need
1/3 Octave Bands? - Already fitter
Accessories? - Calibrator is often essential, carrying case is useful.
Insight Software? - Makes download and analysis more convenient
Sound Level Calibrator
| | | |
| --- | --- | --- |
| Calibrator | | The most important of the accessories is the Calibrator. Most regulations state that you should use one to check the function of the meter before making any measurements. |
Type 1 or Type 2 Sound Level Meter?
A Type 1 sound level meter is a little more accurate than a Type 2 model. Many environmental noise regulations, and the authorities controlling them, demand the use of a Type 1 sound level meter for this type of application. Check with your regulations first. If you have any doubts then a Type 1 meter is the safer option, as you are not left explaining why you used the less accurate model. If in doubt, contact us on info@noisemeters.com for advice.
---
Insight Software
The CEL633C is a data logging meter that does not require any additional software - when plugged into a computer running the free CasellaDrive software it acts like a memory card. You can manually copy the data to your computer or load it into a spreadsheet program using a small conversion application. However, the Insight software makes this process more convenient, links the measurements to person, place or process, and presents the results graphically.
We recommend the Insight software with the CEL633C if you are going to take advantage of the Time History store or if you are making use of the 1/3 Octave Band Filters. In these cases processing the large amounts of data in a spreadsheet can be rather time consuming.
---
High Level Microphone - 165dB
For some applications with extremely high noise levels, such as weapons testing, firing ranges and controlled explosions, the standard upper limit of 140dB may not be adequate. In this case we have a 1/4" High Range microphone that extends the measurement limit to 165dB.
Please see the High Range Microphone page for more information.
---
Order Codes
| | | |
| --- | --- | --- |
| Sound Level Meter | | |
| CEL633C1 - Type 1 Integrating Sound Level Meter with 1/3 Octave Band Filters | $6612.00 | |
| CEL633C2 - Type 2 Integrating Sound Level Meter with 1/3 Octave Band Filters | $5597.00 | |
| | | |
| Calibrator | | |
| The Calibrator is available as Type 1 or Type 2, usually to match the class of the meter: | | |
| CEL120/1 Type 1 Sound Level Calibrator | $987.00 | |
| CEL120/2 Type 2 Sound Level Calibrator | $483.00 | |
| | | |
| Software | | |
| ISC020 Insight Software | $555.00 | |
| | | |
| Accessories | | |
| CEL6840 Carrying Case for CEL633 Sound Level Meter, Calibrator and accessories | $141.00 | |
| PELI-SLM Tough Peli Carrying Case for Sound Level Meter, Calibrator and accessories | $348.00 | |
| PC18 AC Power Adapter for the CEL633 Sound Level Meter | $62.00 | |
| | | |