CEL633C Environmental Sound Level Meter with 1/3 Octaves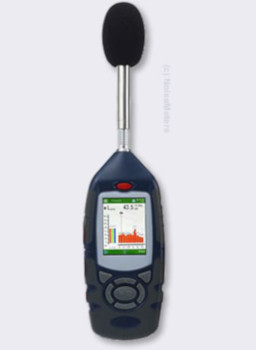 CEL633C Sound Level Meter
Applications
The CEL633C is a Sound Level Meter that includes the usual environmental noise measurement parameters along with real-time 1/3 octave band filters for tonal noise assessments. It also has a detailed Time History store and automatic measurement timers.
Environmental noise measurements
Noise Ordinance and Community noise assessments
Noise in mixed residential and industrial areas
Occupational noise measurements
Noise source identification
Due to the nature of environmental noise surveys (both the acoustic nature and the political nature) we recommend the use of a Type 1 sound level meter.
This version of the CEL630 series of meters includes all the Environmental noise parameters along with a detailed time history store and automatic timers, making it ideal for both short term and longer term assessments.
As most occupational noise regulations accept Type 2 as being adequate, all versions of the CEL633C are suitable. If you need to measure both environmental and occupational noise then this meter will do both.
Short Term Environmental and Community Noise Surveys
The CEL633C sound level meter measures the noise parameters that are needed by most regulations:
Periodic A-weighted Leq (the average sound level)
Ln Percentiles (the statistical values such as L10 and L90)
1/3 Octave Band for tonal noise analysis
Noise Source Identification
Unattended noise measurement is convenient but causes problems when the time comes to identify the source of the noise. Was it a car, a strong gust of wind blowing the leaves or somebody shouting. The CEL633C can record the audio so that you can listen to the interesting bits, enabling you to make a positive identification of the noise source.
Please visit the Voice Notes and Audio Recording page for more details.
Long Term Environmental Noise Surveys
The addition of a detailed time history store allows for post processing and graphing the noise levels down to a resolution of 1 second, and the automatic timers make it easy to run repeating measurements (for example repeating 5 minute measurements in addition to the 1 second Time History).
The sound level meter can by mounted on a standard camera tripod, but if it is to be left unattended in poor weather conditions you will also need the weather protection offered by the Outdoor Kit.
Occupational Noise
The CEL633C is also suitable for the measurement of noise in the workplace:
Lavg and Leq (average sound level) for TWA calculations
Peak for loud banging noise
"A" and "C" weighting for hearing protector evaluation
Octave band measurements for detailed hearing protector evaluation