CEL632C Occupational Sound Level Meter with 1/3 Octaves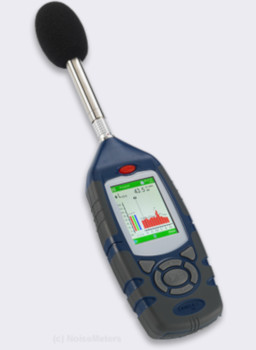 CEL632C Sound Level Meter
Overview
The CEL632C is a data logging sound level meter for detailed occupational noise surveys. It includes automatic timers and a Time History store, making it ideal for longer term and unattended measurements. The real-time octave band filters provide the measurements for a detailed check of hearing protector suitability, and 1/3 octave band filters give a more detailed frequency analysis of machinery noise.
Occupational Noise Measurements
Hearing Protector Checks
Real-Time Octave and 1/3 Octave Band Filters
Data Logging with detailed Time History store
Automatic On/Off Timers
Measures Lavg, TWA, Leq, Lepd, Min, Max, etc. Simultaneously
Range: 20 to 140 dB(A)
Data Markers
Standards
ANSI S1.4 and ANSI S1.43 to Type 1 or Type 2
IEC 61672 Class 1 or Class 2
IEC60851 and IEC 60804 Type 1 or Type 2
ANSI S1.11-2004 and IEC 61260 Class 0 (Octave and 1/3 Octave Band Filters)
OSHA, MSHA, ACGIH, European and other occupational noise regulations
The CEL632C Sound Level Meter measures all the parameters needed for a successful survey of workplace noise. The main parameters - Lavg, Leq, Peak, Lmax, Fast, Slow, etc. - are all measured simultaneously, so there is no need to choose before starting the measurement. With a single span from 20 to 140dB, there is also no need to choose the measurement range either.
Exclusive to NoiseMeters
The Type 1 Noise Measurement Kit (CEL632C1-K) is supplied in a tough Peli Case with custom foam to protect the meter, calibrator and accessories. More details...
Octave Band and 1/3 Octave Band Filters
Rea-time Octave and 1/3 Octave Band Filters are included with this meter. Octaves are particularly useful for assessing the suitability of hearing protectors for a given noise, especially when very high sound levels are present. The CEL632C measures in all bands at the same time as these are "real-time" filters. In 1/3 Octave Band mode, the meter splits the spectrum up into smaller bands (three for each octave) for a more detailed analysis of the spectrum.
Data Logging and Insight Software
The CEL632C comes complete with data logging capability with measurements stored in the meter's large internal memory.
CasellaDrive
When connected to a Windows computer using the free CasellaDrive software, the meter acts like a memory stick (shows as a removable drive) so the measurements can be loaded into a spreadsheet or moved to your hard drive for long term storage. There is no need to buy special software.
Insight
Due to the large amount of data and the potential complexity of the measurements, we would recommend the use of the Insight software. It simplifies the process of downloading the measurements and stores them in a database, managed by person, place or process criteria. To get the Insight software for the CEL632C include item ISC020 with your order.
---