Environmental Noise Monitoring Systems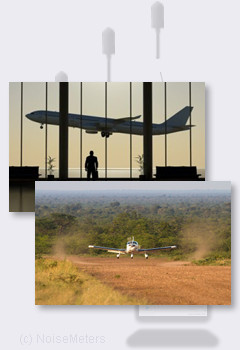 Airport Noise - A Lightweight Approach
A noise monitoring system around an international airport generally requires a way to identify any offending aircraft, handle complaints and show real-time noise levels as part of a PR campaign. If this is the type of system you are looking for then please contact NoiseMeters and we can put together a quotation for you.
Airstrips, Airfields, Aerodromes
On the other hand, if you are looking for a small system to monitor the noise levels around a smaller airfield, the fully integrated noise and track systems are usually way over the top in terms of functionality, complexity and, of course, price.
The EM2010 based Wireless Noise Monitoring System offers the following benefits:
Connection via GSM / 3G network - no communications cabling required
Very quick and easy to install
Automatic upload of measurements to a web server
View results in web browser on any Internet connected computer
Typical System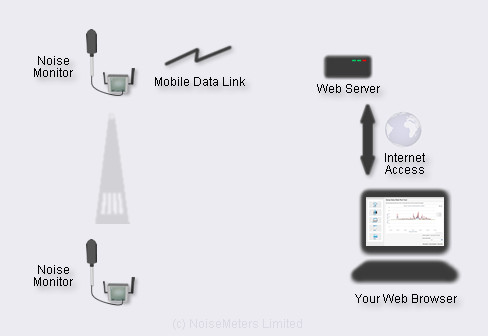 A typical system would consist of one or two noise monitors mounted in line with the end of the runway or at sensitive locations, such as the boundary close to residential areas.
The remote monitors connect to the internet using the mobile phone network and upload their noise measurements daily. If you receive a complaint, you simply log in to the web site and view the sound levels at the time in question. The sound level graph can be printed or included as an image in your report to the complainant or local authority.
For more information about the EM2010 Noise Monitor and for prices, please visit the Wireless Noise Monitoring System page.